Quotex Platform Review India
Quote India Review
Quotex is one of the leading binary options brokers founded in 2020 that provides online trading on a custom-built web platform. This review covers how can you start trading with Quotex, funding methods, customer support, and bonuses deposits.
Quotex is the trademark owned by Awesomo Ltd, a Seychelles-based company complying with the regulations of the International Financial Markets Regulatory Center (IFMRRC). The company has obtained a certificate as a licensed broker in November 2020.
Quotex accepts traders from all over the world including India. The traders can use several deposit methods including Cryptocurrency, Credit and Debit Cards, e-Wallets, and wire transfers for funding their accounts.
Here, we will discuss if it is worth investing your money with Quotex?
TRADING PLATFORM
After registering for an account on the Quotex.io website, the traders can access the web platform and start trading. The broker has implemented all the most efficient and user-friendly trading indicators, charts, graphic tools, advanced financial instruments, deposit, and withdrawal methods into the trading platform for the ultimate experience of trading. Hence, each client can find something for him/herself.
The traders can invest in Binary Options or Digital Options trading involving Currency pairs, Cryptocurrencies, Commodities, and Indices. Quotex offers the highest in the industry payout on Fixed Contracts to Binary Options trading which is up to 95% for a successful trade.
The trading platform is available for PC, MAC, and Mobile platforms.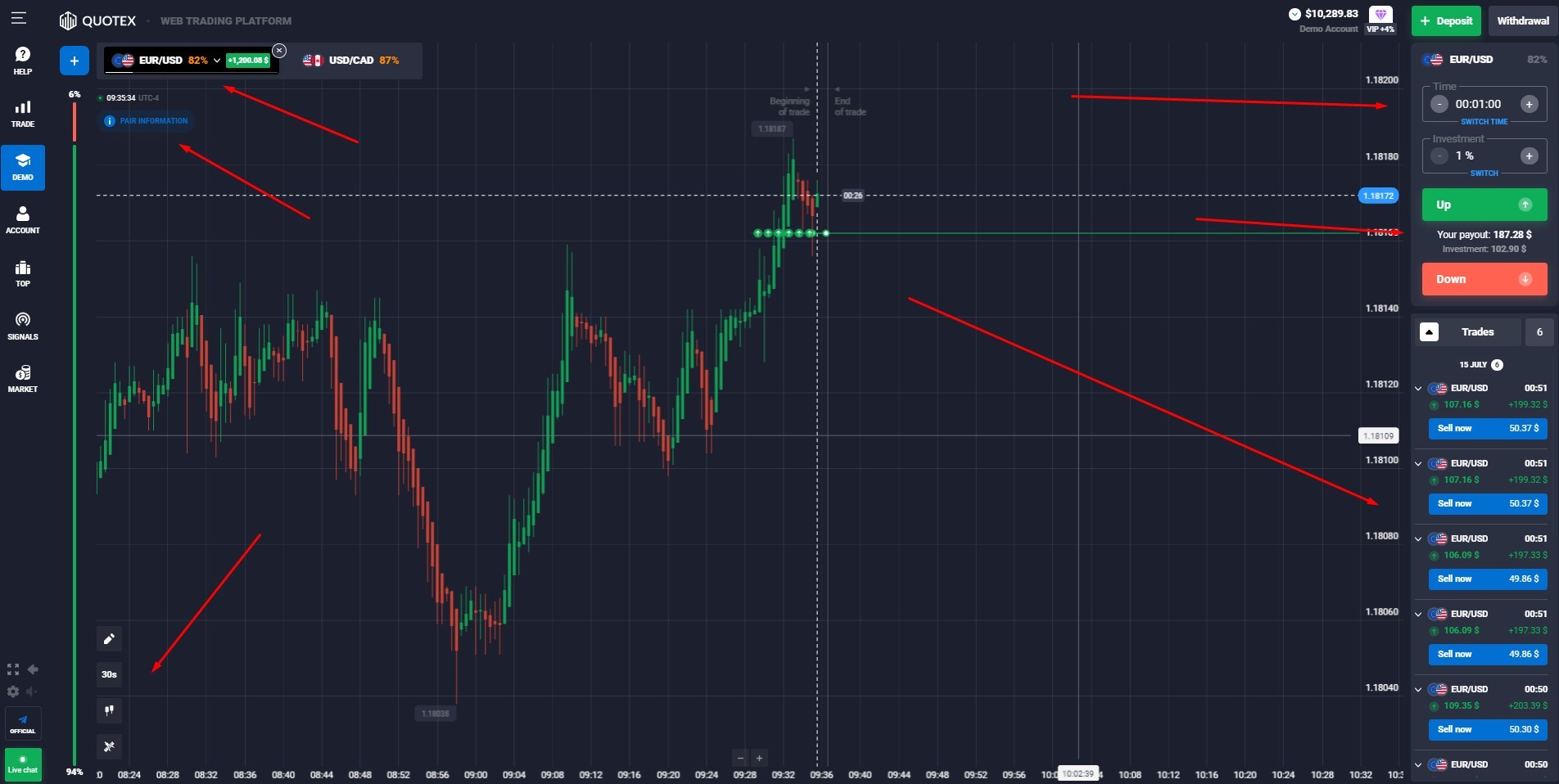 QUOTEX MOBILE TRADING APP
Quotex has an excellent Mobile trading platform that helps traders to trade on the go. The Mobile trading platform can be downloaded here from the Quotex Andriod Platform link.  You can download the mobile trading platform on Google Play Store. You can find Quotex Platform for iOS on Apple App Store.
HOW TO TRADE ON QUOTEX PLATFORM
Binary Options trading is simple to understand. The traders should use the Free Demo Account for learning and practice purposes. The step-by-step trading method is as follows. 
1. The trader must log in to the portal or trading platform.
2. Select an asset to trade from the available assets.
3. Each asset shows its profitability by its side if you win the trade.
4. Select the trade expiry time – The trade expiry is from 1 minute to 4 hours.
5. Enter the amount you want to invest in the trade – Invest a small amount.
6. Choose "Up" or "Down" if you expect the price to go up or down.
The price of the asset is displayed in real-time, and traders can view multiple charts on a time frame of 5 seconds to 1 day. The Quotex platform has 9 built-in indicators that you can use for chart analysis and trade efficiently. There are also 15 drawing tools available to help you with trading.
QUOTEX PLATFORM FEATURES
The traders can use their own trading strategies or replicate the successful traders with one click. The platform's interface shows a list of the top 20 players of the day. The terminal also contains market signals, analyst recommendations for assets, price directions, and the time frame of the analysis. The traders can use the signals on the platform to make better trading decisions.
Note: Quotex does not offer MT4 or MT5 platforms.
Unique trading interface and many assets
The Quotex.io team understands the trader's requirements and has designed the platform keeping the traders' demands in mind. This is the reason the trading platform is user-friendly, intuitive, and suitable for beginners and professionals. The broker has efficiently organized all the important and efficient trading tools, indicators, and charting features.
As a result, the traders get the best platform to trade the financial market confidently. You can customize the trading tools to fit your trading strategy.
Quotex offers over 410 Assets or digital options trading
Currency-27 currency pairs, from big to exotic.
Cryptocurrencies – Coins from Litecoin, Bitcoin, Ripple, and Ethereum
Major Indices, including FTSE 100 and Dow Jones.
Commodities – Gold, silver, and oil, etc.
During our review, we were happy to see cryptocurrency being offered as an asset in digital options, which is commonly not found with many popular online Binary Options brokers.
Quotex offers risk-free Demo Accounts that don't require any deposit. There are three more trading accounts for traders to choose from – Standard, Pro, and VIP account types. These accounts are well equipped to offer some excellent trading features. The VIP account offers extra benefits like higher payout and faster withdrawal processing.
Quotex offers a risk-free demo account free of cost to the traders.  You don't have to provide any financial information to start trading in a demo account. The Demo Account is free and comes with $10,000 virtual money. You can top up the Demo Account for free anytime you want.
Quotex Standard Account gives access to the financial trading market with a low investment of just $10. The deposit can be done using Credit or Debit cards,  e-wallets like Skrill, Webmoney, Advcash, Neteller, and PerfectMoney. Quotex also accept Cryptocurrency deposits.
Serious traders deserve better trading experience. Quotex gives Pro status to traders with more than a $1000 balance . The Pro traders get priority support, a higher payout compared to Standard Account and a dedicated account manager. Pro accounts enjoy higher payout and faster fund withdrawals.
The professional traders with a higher investment deserve special attention from the broker. Quotex offers VIP status to traders with more than a $5000 balance. The VIP traders get priority support, a higher payout and a dedicated account manager. VIP accounts also enjoy faster fund withdrawals for free.
Is Quotex a regulated Broker?
Regulation and safety: Is Quotex a safe online trading platform?
Quotex has obtained a license from and complies with the Center for International Financial Market Relations Regulation (IFMRRC). The agency's regulations include compensation of funds to members who reimburse customers for their license violations or failure to pay.
According to the information available on the website, Awesomo Limited, the company that owns and operates Quotex website, is registered in Seychelles and complies with the Center for International Financial Market Relations Regulation (IFMRRC).
However, Quotex does not comply with any other Government Financial Regulator in any country apart from IFMRRC. It is common in the case of most of the Digital Options brokers, none of them are regulated by any major Government regulators.

The lowest minimum deposit required to start trading with Quotex is $10. It is an innovative online trading platform that gives a trading facility with a very minimum funding amount. Small investors also can try to achieve their financial goals with this innovative online Binary Options trading platform. 
The traders with higher investment objectives can deposit $1000 for a Pro Account and $5000 to get a VIP Account. The Payouts are up to 95% for a successful trade.
DEPOSIT METHODS AND SAFETY
Quotex complies with IFMRRC and observes international standards for fund deposit and withdrawal processing. The traders can choose any of the Fund Deposit Methods available with the broker. Broker accepts Mastercard, Visa, Skrill, WebMoney, and QIWI, and Neteller for fund deposit and withdrawal purposes.
QUOTEX DEPOSIT METHODS IN INDIA
In addition to the regular funding methods, there are local deposit and withdrawal methods available in certain countries. Local payment features are presently available in India, Malaysia, Thailand, Vietnam, the Philippines, and China. Contact the support team if you face any issues while depositing, they will come up with a solution for you.
Indian traders can deposit to their Quotex account using local bank deposits (Bank of India, Bank of Maharashtra, Canara Bank, Central Bank of India, HDFC Bank, etc.), E-wallets (Upi, GlobePay, Mobikwik, PhonePe, etc.), Cryptocurrency, Bank cards and by using Net banking too.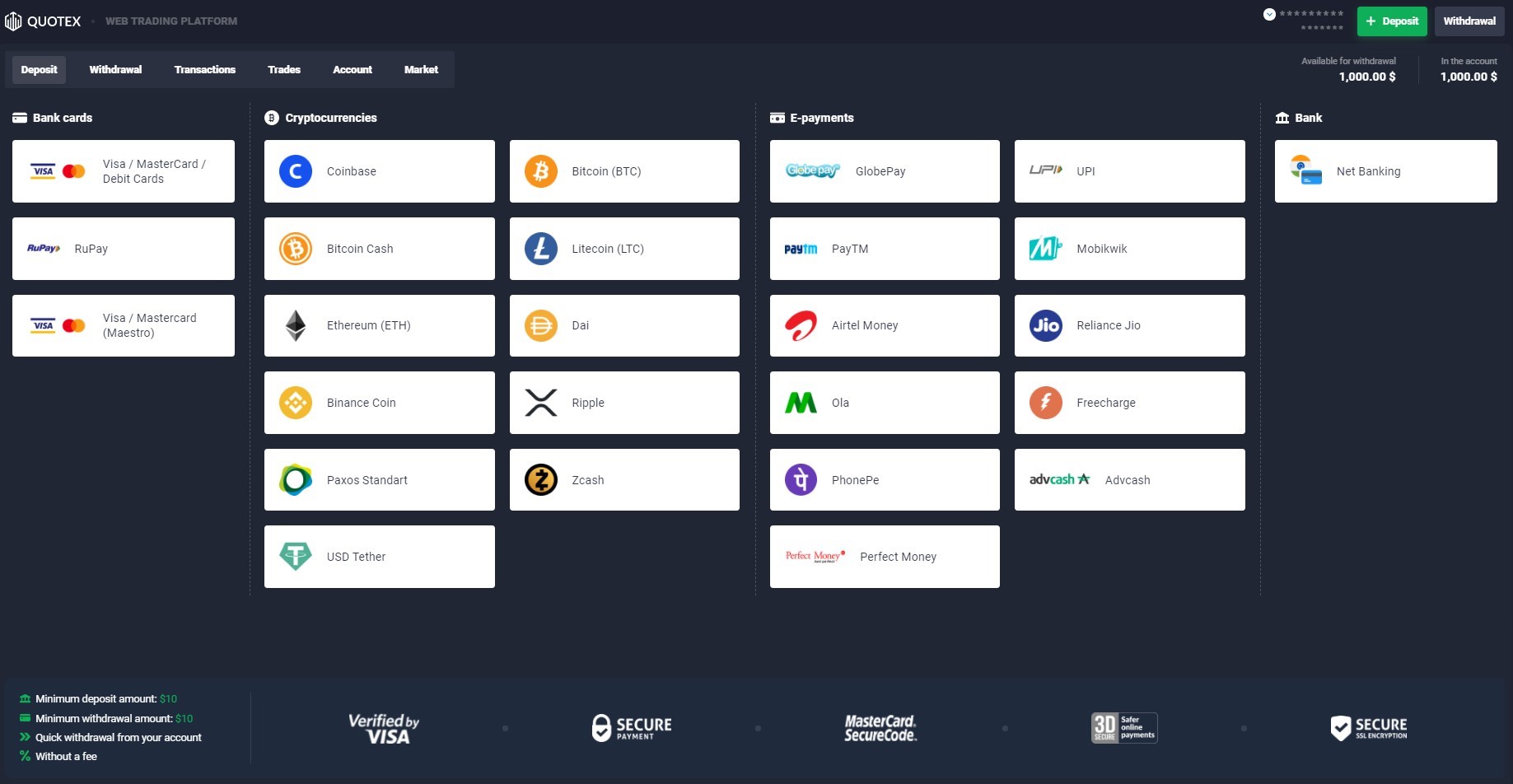 NEW AND UNIQUE FEATURES
Traders can now invest in more than 40 currency pairs, which contain few exotic things like MXN or TRY.  
The broker's Smart Newsfeed, Signals can also help out if you do not have enough time to check various sources for the latest market news. Quotex platform has an advanced charting section to help traders trade smoothly without switching between tabs or windows.
HIGH PAYOUT
Quotex is one of the Binary Options Platforms offering the highest in the industry payout on trades, which is up to 95%. The payout percentage varies with the liquidity in the market. The traders can find the highest paying asset and invest in them.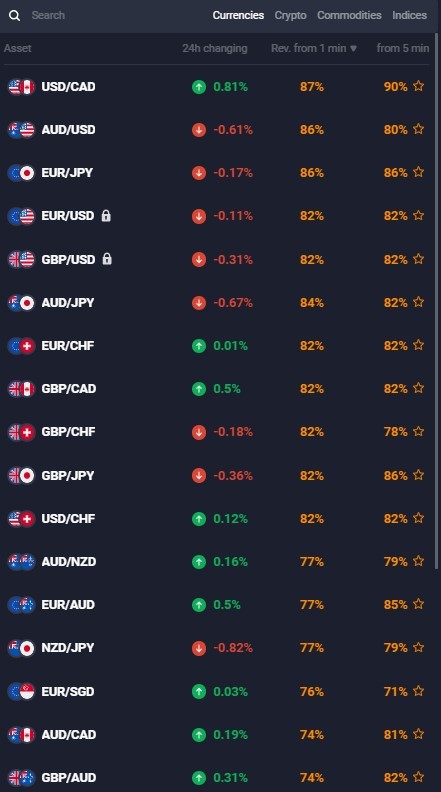 CHART FEATURES – QUOTEX PLATFORM REVIEW
Quotex platform has its own charting features along with indicators and drawing tools which include Japanese Candle Sticks, Heiken-Ashi candles, Bars, Graphs, and Area charts.  The candle time frame can be set from 5 seconds to 1 day.  More expert traders especially will want to check out Heikin-Ashi. It's a new type of candlestick chart, which serves as a trading indicator due to the way it is formed.
INDICATORS AND OSCILLATORS
The platform includes advanced charting features to help traders making winning trading decisions. The traders need not switch between windows to check the trend and analyze the market. They can do it right away on the trading platform and execute the trade. Bollinger Bands, Moving Average, Keltner Channel, Awesome Oscillator, MACD, Stochastic, and Oscillator are the few indicators available.
The drawing tools include commonly used Fibonacci Retracement, Price Range, Cross Line, Rectangle, and more. The chart can be customized by changing colors of background, candles, and chart customization.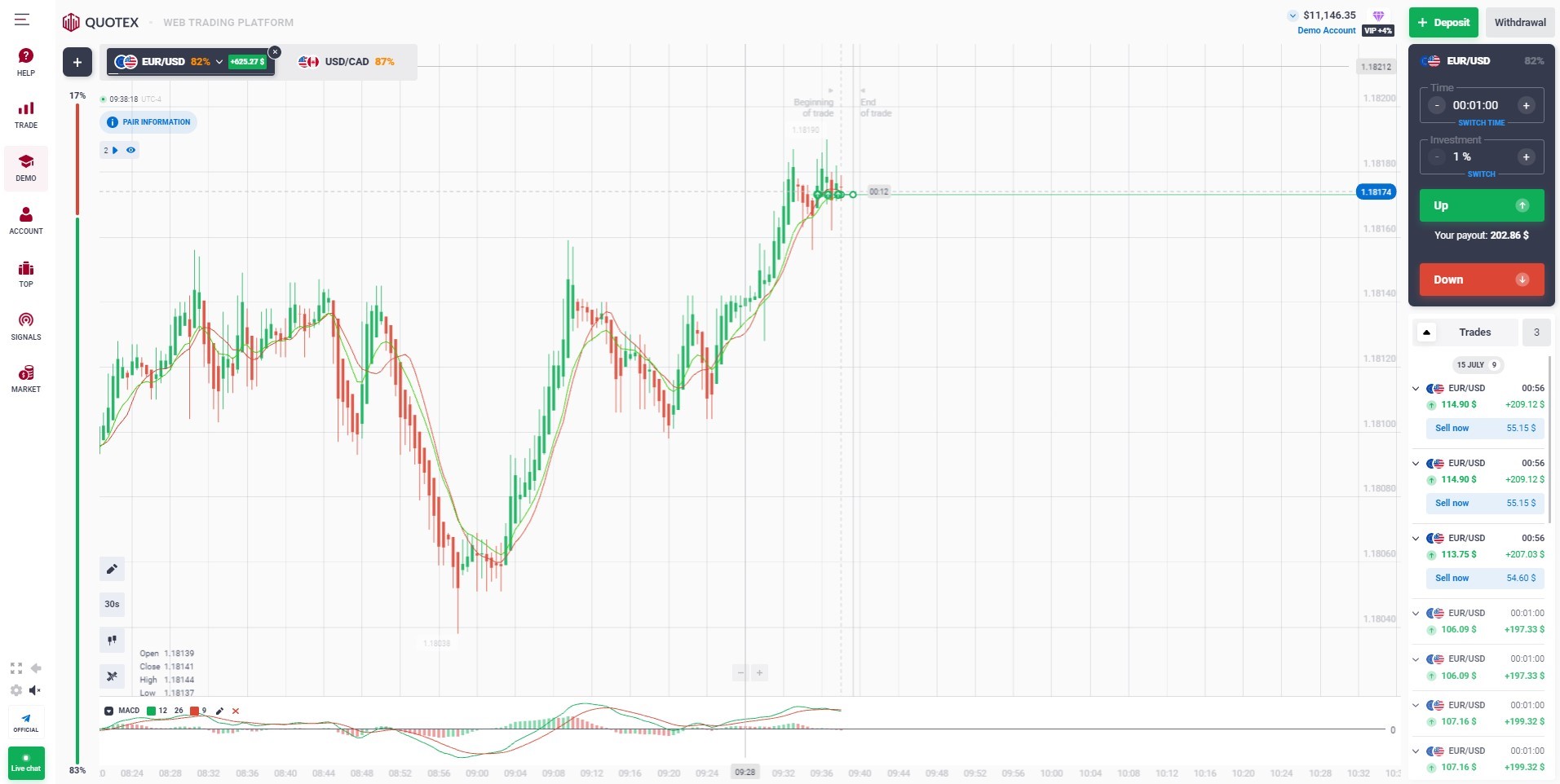 Frequently Asked Questions
Is Quotex legal in India?
Yes, It is legal to trade Binary Options with Quotex online trading platform. It is an IFMRRC registered broker having License number TSRF RU 0395 AA V0161 and a Registered address: Quotex LTD. Address: 103 Sham Peng Tong Plaza Victoria, 1, Mahe, Seychelles ID: 226716. Quotex innovative financial trading products like Binary Options and digital options. It is legal to trade Binary Options with Quotex like in any other country.
Regulations are changing frequently, so ensure the current legislation in your country about online trading before you invest.
Is Quotex regulated in India?
Quotex online trading platform does not come under any regulators in India. However, it accepts Indian traders for online trading. It is a legitimate financial trading broker with IFMRRC License number TSRF RU 0395 AA V0161 and address 
How to deposit and withdraw funds from Quotex in India?
Quotex offers multiple ways to deposit funds safely while trading from India. You can use local payment methods and local money wallet services in India. You can deposit funds using Credit Card, Debit Card, Wire Transfer, Skrill, and Netteller. Local bank deposits, PayTm, Airtel Money, and Net Banking etc are also available for fund deposit and withdrawal. You must verify your account by submitting your identity documents before requesting the fund withdrawal. 

How to verify Quotex Account?
Most traders feel confused when it comes to the account verification process. Quotex verification is a mandatory process every trader has to go through. It is mandatory for Indian traders to complete the verification process before requesting any fund withdrawal from their accounts. Aadhar Card, Passport, Voter ID, Driving License, etc are acceptable documents for account verification purposes. Most of the traders pass-through this verification process smoothly. After completing the verification process the traders can withdraw profits into their account.
Quotex Review – India
Without any doubt, Quotex is one of the best brokers not just in India but all over the world. With a minimum investment of $10, you can trade and explore the potentially profitable marketplace. A great new platform with a FREE DEMO account will assist you with an excellent trading experience. Also, you can download the broker's app in different versions. And you don't even have to spend any money if you want to check things out here – open a demo account see what the broker has to offer. So open an account with Quotex India today if you want an exciting trading experience.